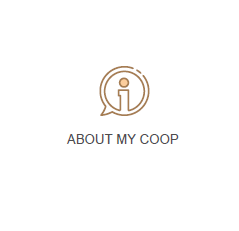 Shareholders will be automatically included in the "My Coop" Rewards Program under the Gold Tier.
500 welcome bonus points for Gold Tier holders (shareholders).
250 welcome bonus points for Bronze Tier holders.
We are pleased to announce the launch of the "My Coop" Rewards Program, which is an amazing world of opportunities to earn points while you shop at Sharjah Coop branches or via the online store.
AED 1 = 1 point
Join the loyalty program "My Coop" now to get your annual profits and benefit immediately, and at any time, with the following advantages:
A double benefit program for Sharjah Coop shareholders
Collect reward points on every purchase.
Replace "My Coop" points within the branches of Sharjah Coop or via the online store www.sharjahcoop.ae.
View your points balance, browse the available offers and electronic bills at your convenience and from anywhere, through the Sharjah Coop app.